Tree Setup & Lot Pictures 2018 Pending
Extra Small $40.00 (For Trees Under 5.0 Feet)
Small $45.00 (For Trees 5.1 to 6.5 Feet)
Medium $60.00 (For Trees 6.6 to 7.5 Feet)
Large $70.00 (For Trees 7.6 to 8.5 Feet)
Very Large $85.00 (For Trees over 8.6 Feet)
Table Tops, Wreaths $30.00
Crosses $35.00
Large Outdoor Pots $45 to $65.00
Tree bags will NOT be available this year. Suggest you bring your own bag, blanket or tarp.
Our volunteers will trim your tree to your specifications and give you tips on how to care for the tree over the holiday season.
Lot Times:
All Days: 9:00 a.m. to 8:00 p.m.
Sales Start Nov 26, 2022
Note: You are encouraged to follow current COVID-19 quidelines.
Cash ,Debit or Credit Card is Accepted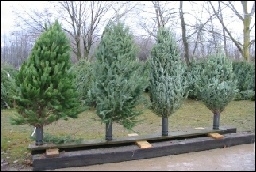 CHRISTMAS TREES on Site
Snow Tip Balsam Fir 6' - 8' (250)
Scotch Pine 5.5' - 8' (150)
Snow Tip Fraser Fir 6' - 10' (495)

WESTERN ONTARIO FISH AND GAME PROTECTIVE ASSN. Inc.
790 Southdale Road (East)
London, Ontario Canada
N6E 1A8 (519-681-2370)