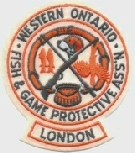 WESTERN ONTARIO FISH AND GAME PROTECTIVE ASSN. Inc.
790 Southdale Road (East)
London, Ontario Canada
N6E 1A8 519-681-2370
The Purpose of the Association is to Promote Protection of Natural Resources, Environment and Conservation.


Its Purpose -
1) To promote true sportsmanship by the protection, breeding, propagation and conservation of game & fish.
2) To obey the fish & game laws of Ontario.
3) To promote reforestation and conservation.
4) To maintain a club and lake for the accommodation & enjoyment of the members, their families & friends.
The club is located on Southdale Road (north side), just east of Wellington Road in the city of London, on a lake which is about nine acres in size.
I give my pledge as a Canadian to save and faithfully to defend from waste the natural resources of my country, its soil and minerals, its water, forests, air and wildlife and to obey all fish and game laws.

-OUR CLUB-

- OUR PLEDGE -