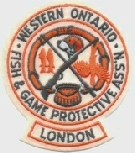 WESTERN ONTARIO FISH AND GAME PROTECTIVE ASSN. Inc.
790 Southdale Road (East)
London, Ontario Canada
N6E 1A8 519-681-2370
The Purpose of the Association is to Promote Protection of Natural Resources, Environment and Conservation.



- In The Beginning -
A block of ice, lodged in a hollow, melted -
Three small lakes, extending over 240 acres formed, and all this happened 14,000 years ago.
Presently known as Pond Mills, the area, one of Southern Ontario's rarest ecological finds, is the home of Western Ontario Fish & Game Protective Association Inc., located on the most southerly of the lakes, at one time known as Walker's Pond.
From our Beginning in 1875, conservation efforts by the Club have included tree planting in the London area, steam improvements, and fish stocking in Medway, Caddy and Fanshaw Creeks, the lower Medway, the Thames and Arva pond. Pheasants have been released, and eggs distributed.
In recent years, tree planting has been shared by Club and Scout groups. Annual Salvation Army children Fishing Day was held for many years. A Safe hunter-training program has continued since 1957, in cooperation with the Ministry of natural Resources.
The Club objectives are to promote true sportsmanship, though the protection, propagation and conservation of game and fish, to obey all fish and game laws, and to promote reforestation and conservation of plant life.
In practice, the club preserves an unique facility within the city for education and recreational use. One can realize just how valuable the Lake and area are, when you review the results of a August 1981 survey of the site by the Ministry of Natural Resources. It revealed the following: 757 Plant species, 232 bird species, 20 mammals, 12 amphibians, and seven reptiles. While an amateur naturalist without specialized knowledge and powers of observation might have difficult identifying the entire "population", even an untrained individual is able to spot turtles, racoon's, ducks, and a growing population of Canada geese. Of the 757 plants, the Flowering Dogwood (Cornus Florida) is the most notable, since it identifies the area as the northern edge of the Carolinian Zone of North America.

- And Now -