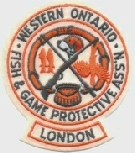 WESTERN ONTARIO FISH AND GAME PROTECTIVE ASSN. Inc.
790 Southdale Road (East)
London, Ontario Canada
N6E 1A8 519-681-2370
The Purpose of the Association is to Promote Protection of Natural Resources, Environment and Conservation.


The Executive and members of the Club make every efforts to reach their stated objective. The volunteer efforts of its executive committee and 200 members oversee regular stocking programs, lake level maintenance, and water quality control. Close cooperation with the Upper Thames Conservation Authority and also the Ministry of Natural Resources insures appropriate conservation guidelines are met or exceeded.
Regularly stocked Rainbow Trout (under MNR License) and naturally occurring populations of Black Crappie, Perch, Largemouth Bass, Sunfish/Bluegill, Catfish and Carp offer many day-time hours of leisure fishing opportunities to our Club members and their guests.
Seasonal fishing derbies, including an Ice-fishing derby for truly dedicated anglers, offer a more competitive and fun fishing challenge for Adult and Junior divisions on derby day.


Strict catch limits are observed, and catch and release techniques are encouraged, in order to maintain a healthy population.

- In the Spirit of Good Stewardship -

- THE LAKE -

- A Good Neighbor -
One would have to agree, it is most unusual to find an active, vibrant fishing Club actually located within a city, but the Club is well within City limits, just east of the Dearness Home, on Southdale Rd.. And because being a good neighbour is important, we believe in maintaining good relations with our fellow Londoners.
Besides being a self-supporting group, which pays its own taxes, light and heat etc., we welcome group visits when possible. For example, London City fireman use the Lake facilities for scuba-diving practice. Visits by naturalists, and others interested in the environment are encouraged to contact the Club.